World rankings divided into tiers of 6 teams each.
Each team plays the other 5 teams in their tier, home & away: thats 10 test matches per season.
This gets rid of point-ranking speculation by having the best teams play each other every single year.
For example England & New Zealand, the two star teams at the time, only played each other twice in the 2016-2019 period.
France is now the hot team, but has not played against South Africa since 2018.
This format also gives space to play an additional 2 to 4 test matches against teams outside of your tier, for legacy competitions such as the Six Nations & Rugby Championship.
At the end of every season, the bottom team of every tier is relegated to the lower tier. And the top team of every lower tier are promoted to the higher tier.
This helps the lower tier teams play regular & competitive matches with a clear pathway to playing better ranked teams. It gives every team something to play for: promotion/relegation, world cup placing, and actual rankings based on the best teams playing each other home & away every year.
Tier 1

Tier 2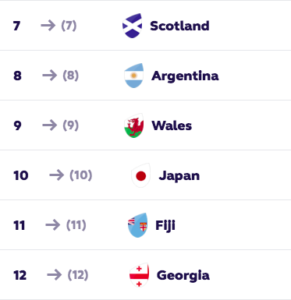 Tier 3

Tier 4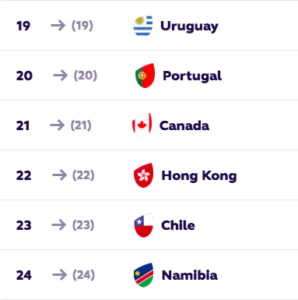 World cup seeding is based on the Top 16 ranked teams from the year preceding the world cup.
There is a clear pathway for lower tier teams to make the world cup: you have to place within the top 16 teams by the end of the season directly preceding the World cup year.
The year following the worldcup sorts the tiers by their world cup results.
For example it is possible to jump a tier by having a strong worldcup showing (Japan in 2015), and drop a tier by having a poor worldcup showing (England in 2015).
A Tier Two Worldcup for teams ranked 17-32, running concurrently with the main tournament would do wonders for motivating the growth & development of the game beyond the traditional rugby nations.
These teams would play curtain raisers for T1 matches, or at smaller venues in the host nation.